At Doggie Au Pair we are a hand-selected team of dedicated, reliable dog walkers and cat sitters. We care for your dogs, cats, and other small pets just as we would our own.
We understand the anxiety pet parents feel leaving their dogs, cats, or other pets at home during a long work day or when going on vacation because we have felt the same way. That is why we have been making your pets a part of our family since 2006, allowing you peace of mind knowing your pets are taken care of by a professional and caring member of our team who will love your pet as much as you do. We understand the importance of the phrase "A tired dog is a happy dog." and know that in turn makes for a happy dog owner. Our goal is to ensure you return home to a happy tailwagger or a content kitty each and every time you leave your fur babies in our care.
Doggie Au Pair is an established dog walking and cat sitting service with a history of experience and reliability. We are small enough to offer specialized care while being large enough to accommodate your pet's individual needs. We will provide excellent references proving customer satisfaction and a roaring "four paws up" from our 4 legged friends.
Dog walking and cat sitting services are available in Dedham, Roslindale, West Roxbury, Westwood & Norwood.
About Lorraine Connolly, Doggie Au Pair Owner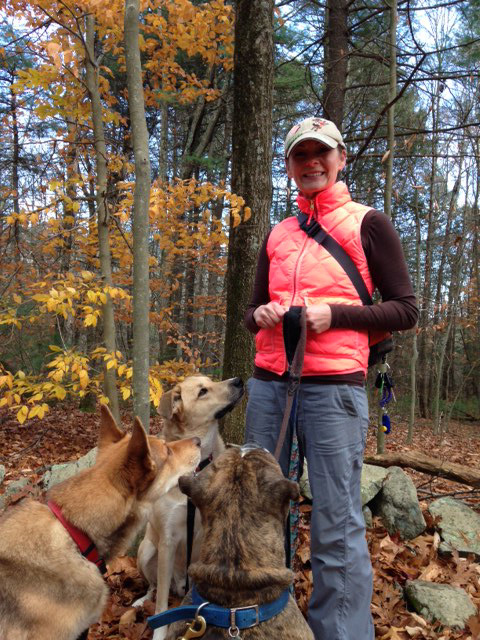 There's nothing that makes me happier than a wagging tail and a dog's smile.
I spent many years working in the hospitality industry which meant my days were free for walking my yellow lab Juno. As time passed, I started walking dogs for friends and neighbors during my free time and kept coming back to how much I loved dog walking. After some soul searching I decided to follow my dream and made dog walking and pet sitting a career. I now have some of the most wonderful customers along with a fantastic team and it is a decision I will never regret!
I reside in Dedham with my husband Ultan and our three dogs, Juno, Benji, and Pully.
My team and I thank you for taking the time to look at my website and look forward to welcoming you and your pet to the Doggie Au Pair family.
--Lorraine Connolly